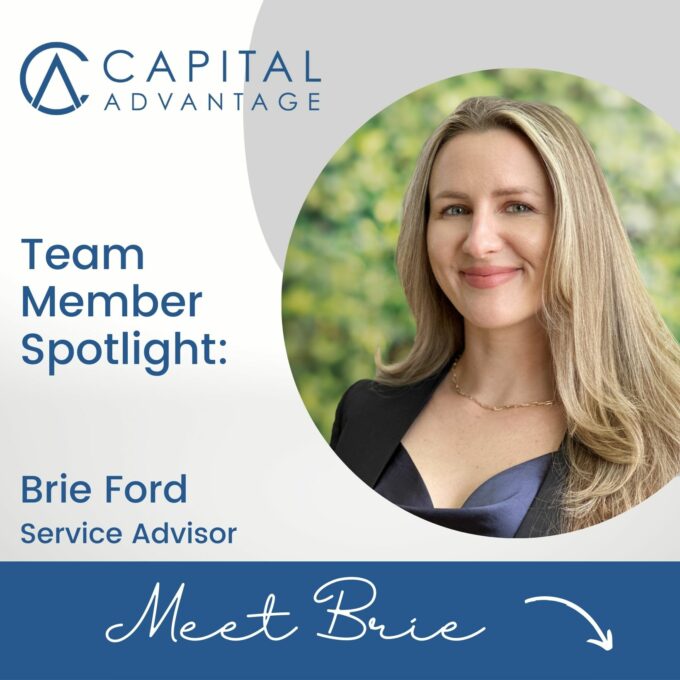 Brie Ford is a Service Advisor at Capital Advantage. She is responsible for assisting with financial planning, maintaining client accounts, and the day-to-day servicing of client requests.

Hometown: I grew up in Laguna Beach, CA; a small artist community and beach town in Southern California. I spent a ton of time at the beach, and the Sawdust Art Festival in the summer where my mom has a booth.

College: I started my college career at City College of San Francisco before transferring to Cal State East Bay, where I earned my bachelor's degree. My college experience was not a linear path as I was working full time, so I went to school part-time and graduated with my bachelor's degree at age 27.

Favorite vacation: I just returned from Kauai, and I would say it was my ideal vacation spot! There is nothing more magical than enjoying a long beach day on the garden island and ending it with fresh coconut water.

Noun or adjective that describes you: Enthusiastic! I have always been enthusiastic about my endeavors and kept a positive mindset. I try to measure my success by how much fun I'm having. After all, time is a non-renewable resource, so why not make having fun the most important part of your life?

Favorite aspect of working at Capital Advantage: There are so many! First and foremost, I love working with our clients. Meeting our clients and learning about their lives is a highlight of my role. Also, I love working in finance! I believe that financial wellness is a key part of a happy and fulfilled life. Helping clients with this crucial aspect of their lives is a serious honor that I don't take for granted.