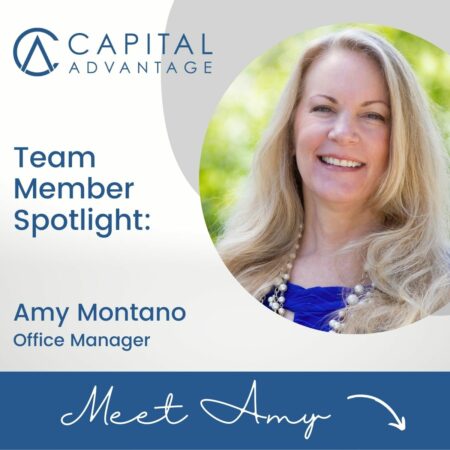 Amy Montano is typically the first person to greet you when you call or visit Capital Advantage. She is our Office Manager and Senior Administrative Assistant, and is responsible for supporting the client service, marketing, compliance and operations teams.
Hometown: I was born and raised in Walnut Creek. I have seen tremendous growth in the city—from wide open spaces with a small town feel to the major shopping and dining city it is today. My family co-owned a small sporting goods store in the 60s and my dad started and supported Little League and initiated the building of the Civic Park consisting of several baseball fields. It was a great city to grow up in. So much so that I have remained here with my husband to raise our daughter.
College: I attended Diablo Valley College and received my AA degree in business and went on to business school majoring in accounting and data processing.
Favorite vacation location: I would have to say the Gold Country in California. It holds such fond memories (fishing with my dad, swimming in the lakes, and playing pee-wee golf on warm summer nights) as my grandparents and then parents owned a cabin in Twain Harte. To this day as I approach the Twain Harte town sign, I feel all the day-to-day stresses evaporate.
Adjective that describes you: Giving—I love to pay it forward by buying lunch or coffee for the person behind me in line! I love the look of surprise and I just tell them to pay it forward! I also like to surprise the team at Capital Advantage with treats.
Favorite aspect of working at Capital Advantage: The team has kept me here for 15 years! We are truly a family. We work hard together and support each other. We not only get together for company events, but even have fun together on the weekends!
When not at work, I love to…spend as much time with my family and rescue dog, Holly. Reading is always a great way to relax. I always have one book to finish and one ready to start.