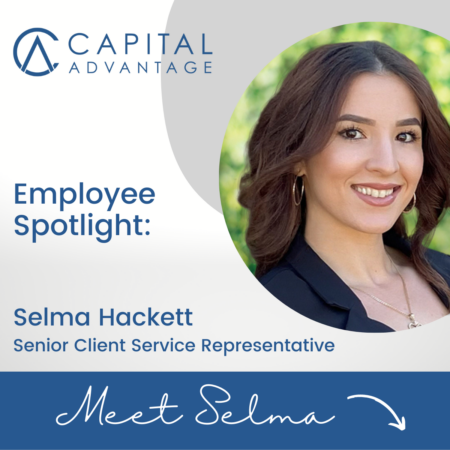 Selma Hackett is a Senior Client Service Representative at Capital Advantage. She is responsible for maintaining client accounts, servicing client requests, and supporting various aspects of sales, marketing, and financial planning.
Hometown: I grew up in Algeria and moved to the U.S. in 1999. My dad won the lottery for a 6-month Visa, and he loved it here so much that we ended up staying in America. I was 9 years old and did not speak English.
College: I attended Diablo Valley College and received my CA in Early Childhood Education.
Favorite vacation location: Any place that has beautiful hiking trails or a beach (with great drinks!).
Adjective that describes you: Adventurous—I love to do spontaneous things and have fun!
Favorite aspect of working at Capital Advantage: There are so many…but I love the TEAM! Capital Advantage has a family environment where everyone is there for each other. We all work hard and know how to have fun. Capital Advantage truly cares about me and about my professional growth.