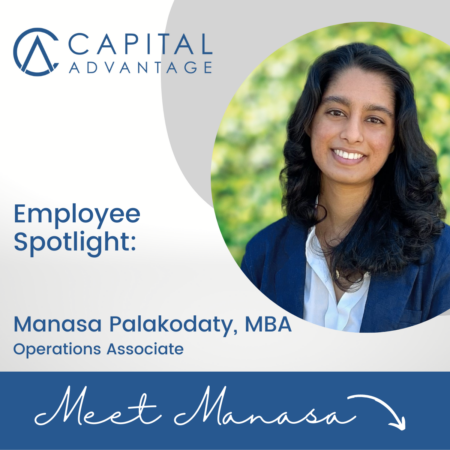 Manasa Palakodaty joined Capital Advantage in 2021. She is responsible for supporting the compliance, operations, and investment management departments as well as ensuring proper execution of the organization's processes and procedures. Manasa has both an MBA and BS in Business Administration from Saint Mary's College of California.
Hometown: I grew up in San Mateo County and now I live in the East Bay!
College: I received my BS in Business Administration (Finance) and MBA in Business Analytics from Saint Mary's College of California. Go Gaels!
Favorite vacation location: My favorite trip was to Paris, France. I loved the architecture, culture, food, and history. I really want to go back!
Adjective that describes you: Artistic! I grew up painting, drawing, learning different instruments, and singing.
Favorite aspect of working at Capital Advantage: The people! I enjoy working in an environment with people who are dedicated to providing the best for their clients. I also appreciate how fun and friendly the team here is at Capital Advantage!