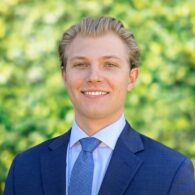 Client Service Advisor Ian Burkhard joined Capital Advantage in June of this year. He is a licensed CPA (Certified Public Accountant) and is working to obtain his CERTIFIED FINANCIAL PLANNER™ (CFP®) designation. Ian is responsible for assisting with financial planning, maintaining client accounts, and the day-to-day servicing of client requests.
Meet Ian
Hometown: I grew up in the Sierra Nevada foothills in a small town called Sonora. I now live in the Sunset District of San Francisco near Golden Gate Park.
College: University of California, Santa Barbara
Favorite outdoor activity: During the winter months, I love to snowboard. I grew up riding a smaller local mountain called Dodge Ridge and still get back up there when I can. I also enjoy boarding in Tahoe with friends.
Favorite aspect of working at Capital Advantage: It's the team atmosphere and culture. The leadership of Capital Advantage promote a collaborative and innovative culture that values teamwork and cooperation. They create a very exciting and motivating (and fun!) work environment that supports everyone in being the best they can be.