Positives
Corporate earnings remained strong despite sharply slowing economic growth
U.S. unemployment rate remains low at 3.6%
Bond interest rates offer some of the greatest yields witnessed in many years
Risks and Concerns
40-year high inflation: 9.1% as measured by headline CPI (as of 7/13/2022)
U.S. Federal Reserve Bank aggressively raising interest rates to combat inflation
The war in Ukraine and China's COVID shut down are exacerbating supply chain disruptions, which is fueling inflation and hampering economic growth
Rising COVID infection rates
Rising risk of recession
The Quarter in Review
The second quarter continued the stock and bond market skid as markets faced difficult conditions primarily driven by inflation and rising interest rates. The most important development was the U.S. Federal Reserve Bank (the Fed) raising interest rates by 0.75% on June 15, the largest interest rate hike since 1994. This was the Fed's inflation fighting response to the Consumer Price Index (CPI) measure of inflation rising 1% in May to an 8.6% annual rate (it increased further to 9.1% on July 13, 2022). The war in Ukraine and supply chain disruptions are still causing upward pressure on inflation. The results of the latest readings on consumer confidence surveys indicated a drop to the lowest level in a decade, signaling that there may be trouble ahead for consumer spending and household finances. The final measure of real U.S. Gross Domestic Product (GDP) revealed that the economy contracted by 1.6% in the first quarter of 2022.
These developments have increased concerns of a looming recession. The following chart is a long-term view of the S&P 500 Index with bear markets (tan) and recessions (blue), and as the chart shows, we have not experienced a significant bear market and recession since the 2008 financial crisis. Remember that recessions are normal, and bull and bear markets are part of the historic investment cycle. Over the long-run, the economy and financial markets march higher – it just takes time.
S&P 500: Bear Markets and Recessions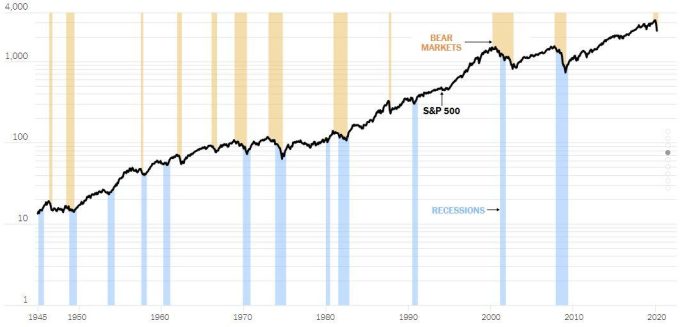 The current environment of inflation, rising interest rates, and a contracting economy may be the formula that results in the first major recession since 'the great recession' of 2007-2009. It has been a difficult start to the year, and it's likely that 2022 will continue to be a challenging year for financial markets.
Current Portfolio Strategy
During the past quarter, we continued efforts to reduce risk. We decreased allocations (from 1% in aggressive portfolios up to 10% in conservative portfolios) in typically more volatile high yield bonds and moved proceeds to floating rate bonds to decrease bond price risk attributable to changes in interest rates. As the following chart shows, interest rates have greatly increased over the past two years, with the benchmark 10-year Treasury note increasing nearly 2% in yield.
United States Treasury Yield Curve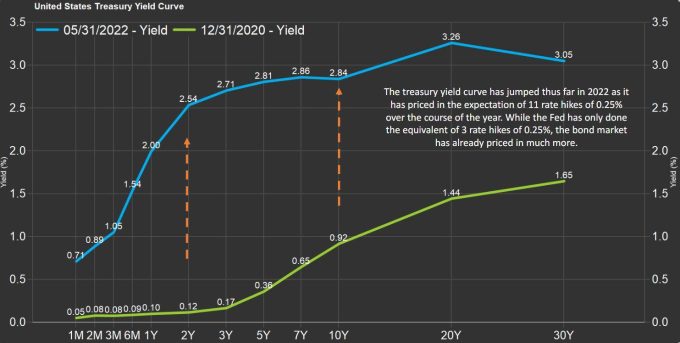 We sold an actively managed Asia-economy fund, placing proceeds into ultra short-term bonds. Asia-oriented funds have significant exposure to China and given the country's continued economic growth issues (seemingly fueled by its zero COVID lockdown policy), we aimed to decrease exposure to China.
During market stress, risk typically increases in the emerging markets asset class, prompting the sale of nearly half our emerging markets allocation, which also had a sizable allocation to China. Proceeds were invested in an international high dividend yield ETF, increasing exposure to international value dividend-paying stocks, a far more conservative asset class than emerging markets.
In June, we swapped broad international equity index positions for ultra-short-term bonds. In doing so, we sought to reduce diversified international stock holdings and increase fixed income; this strategy reduced equity exposure by roughly 4%.
A shift in market conditions to rising interest rates, inflation, and central bank interest rate raising cycles required a significant change in investment strategy, therefore, more tactical changes were made this past quarter than normal, each aimed at the goal of preserving and protecting portfolios during this time of meaningful change and volatility in world financial markets.
Future Asset Allocation Changes and Considerations
In the coming months, we may make additional efforts to reduce equity risk, however, we are approaching the point after a significant sell-off in stocks and bonds in which we may seek buying opportunities. U.S. large capitalization growth technology stocks have sold off significantly year-to-date, and while we will likely add exposure to this sector in the future, it is still a bit too early to do so now.
Should the U.S. slide into a recession later this year or in early 2023, we will further make efforts to reduce equity risk and lengthen duration in fixed income. The following dot plot shows the current Federal Open Market Committee (FOMC) members projections for interest rates – the FOMC believes they will finish raising interest rates mid-way through 2023 at a fed funds rate of approximately 4% (it's currently at a 1.5-1.75% target rate).
The Federal Reserve's New Dot Plot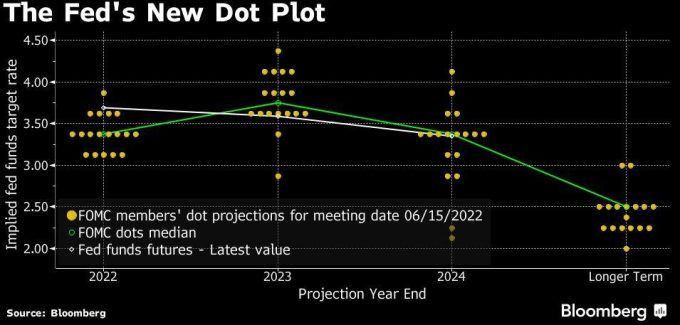 Our primary concern is whether interest rate hikes coupled with inflation will tip the U.S. into a recession. If a recession appears imminent, the Fed will stop raising interest rates, which would prompt us to increase bond duration and maturity, thus increasing interest income. Two years ago, during a time of historically low interest rates, the market favored borrowers instead of savers, but higher yields now favor investors looking for interest income.
Key Investment Takeaways
In an effort to mitigate risk, investment strategy changes were made in both equity and fixed income holdings
To combat high inflation, the Federal Reserve is aggressively raising interest rates, and U.S. headline inflation is currently at a very high 9.1% annual rate
Supply chain disruptions and the war in Ukraine are fueling inflation
2022 is likely to be a rough year for financial markets and the risk of a recession is rising
We will continue to monitor the market risks of this rapidly changing environment, continually adjusting to help preserve and protect investment portfolios. Stay healthy and as always, please feel free to call or email us with any questions or concerns.
Your Capital Advantage Team